Honoring Lincoln's Promise
In 1865, Abraham Lincoln made a promise to our veterans: "To care for him who shall have borne the battle, and for his widow, and his orphan" by serving and honoring the men and women who are America's Veterans. And so, what would eventually become the United States Veterans Administration was born.
To honor Lincoln's promise, the American Veterans Heritage Center (AVHC) along with support from the Lincoln Society of Dayton, are raising funds to erect a bronze statue of President Abraham Lincoln on the grounds of the Dayton Veterans Affairs Medical Center Campus. Lincoln will be seated, with pen in hand, and the legislation he just signed in front of him. His expression will be one of reflection as he considers the importance of the services our veterans would receive for countless years into the future.
History
As the Civil War wound down in 1865, President Abraham Lincoln had growing concern on how to treat an incredibly large number of disabled and injured soldiers. When he looked to Europe, he saw their wounded soldiers becoming beggars and living in Poor houses. Lincoln deemed this unacceptable in the United States and vowed to find another path.
In March of 1865, a month before the Civil War ended, President Abraham Lincoln authorized the first-ever National Soldier's and Sailor's Asylum legislation to provide medical and convalescent care for discharged members of the Union Army and Navy volunteer forces. The asylum was the first of its kind in the world and would provide a model for civilian medical care to Veterans and members of temporary volunteer forces.
Dayton, Ohio was one of the first 3 "Asylums" built and was known as The Central Branch of the National Home for Disabled Volunteer Soldiers. The other 2 were in Maine and Wisconsin. The Dayton facility was the administrative center of the home, and its principal commissary.
In the late 19th and early 20th century, the Dayton Veterans Affairs Medical Center Campus was a Social Hub and the #1 Tourist destination in the Miami Valley, while being a visible testament to Americas concern for its veterans.
Now, referred to as the Dayton Veterans Affairs Medical Center Campus, The American Veterans Heritage Center (AVHC) has taken a lead role in not only preserving the history, but the revitalization of the campus. The goal is to create a healing environment and safe place of reflection for the more than half a million veterans and their families that visit from far and wide seeking treatment each year.
Today and beyond, we need your help…
The AVHC is leading a drive to raise $379,000 to develop a small park at Kentucky and Ohio Avenues a where the Statue, which is being created by Ohio Artist Mike Major, will be located. It will not only welcome people to the Campus while honoring Lincoln, but it will provide a place for solitude, reflection and healing. It will also stimulate teaching and learning opportunities, while creating a significant tourist destination point.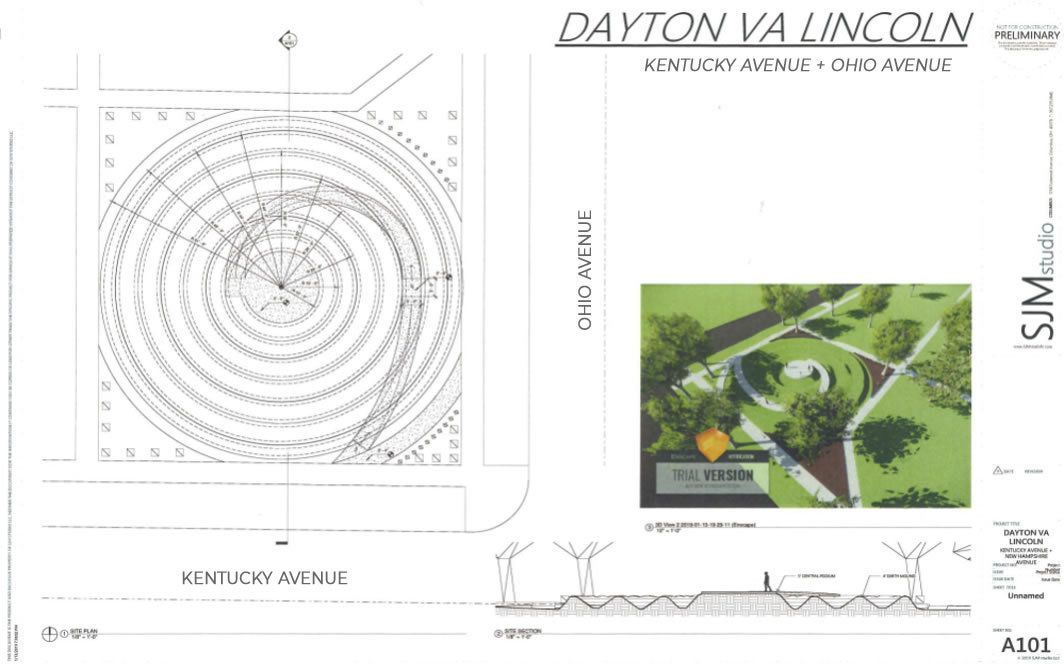 While the Dayton VA Center will donate the land and provide much of the infrastructure, the actual cost of the statue will be paid for with donations and monies raised by the AVHC, which is a private 501 c3, and not a part of the VA Center or the Federal government.
Donate
We have begun fundraising efforts for the construction of the statue.  Please consider helping out – a donation in any amount will help honor Lincoln's Promise.
Donor Levels
President's Circle – $15,000 or more.
Bronze maquette of the Lincoln statue

Private VIP reception with artist Mike Major

Dayton VAMC commemorative gift
President's Cabinet-$10,000
Framed print of Lincoln by Lloyd Ostendorf

Private VIP reception with artist Mike Major

Dayton VAMC commemorative gift
Senator – $5,000
Private VIP reception with artist Mike Major

Dayton VAMC commemorative gift
Representative-$1,000
Dayton VAMC commemorative gift
Ambassador – $500
Your name on a plaque at the statue site
Friends of Lincoln – $5.00 to $499.00
Ways to Donate
You can make a contribution directly online using our donation form:
Pledge Letter
You can also pledge using our Letter of Intent.  Click the link below to open a fillable PDF file.
Lincoln Statue Letter of Intent – Fill in version

News About the Lincoln Statue