MAJOR GENERAL EDWARD J. MECHENBIER (RET)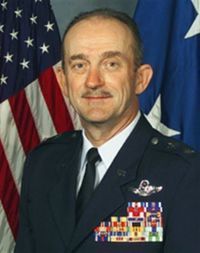 General Mechenbier graduated from the U.S. Air Force Academy in 1964. He attended pilot training and served tours in Europe and Southeast Asia flying the F-4C. In June 1967, he was shot down on his 80th mission over North Vietnam and was a prisoner of war for nearly six years. In 1973, he was assigned to the Fighter Branch, 4950th Test Wing, Wright-Patterson AFB. He resigned his regular commission in 1975 and continued to fly the F-100 and A-7 for 16 years with the Ohio National Guard. He commanded the 162nd Tactical Fighter Squadron for six years. In 1991, the general transferred to the Air Force Reserve where he served with the Joint Logistics Systems Center and Headquarters Air Force Materiel Command. He is a command pilot with more than 3,500 flying hours. He was also appointed by the Secretary of Defense to serve on the Reserve Forces Policy Board.
Early in 2006, Air Force Major General Edward Mechenbier agreed to join AVHC's Board of Trustees, where he served as vice-president. In 2011, Ed Mechenbier was inducted into the Ohio Veterans Hall of Fame.
We are pleased to have General Mechenbier remain an Honorary Member of our Board.