KIM VILLALVA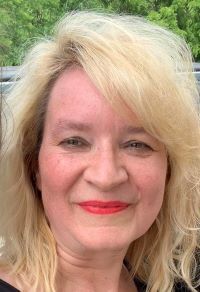 Kim Villalva is an AVHC Trustee since 2022, and Chairwoman of the Education Committee.
Ms. Villalva is a leadership trainer, author, speaker, and active volunteer in the community. 
Kim has extensive experience in training and development and has worked with a variety of clients including corporate, non-profit, the U.S. Army, and educational institutions at all levels.  During her time as the Training Coordinator at Fisher-Rosemount Systems, she designed a new career development program, and she was a certified trainer in Oz Accountability Training and Development Dimensions International. When she was a trainer at Fort Sill in Lawton, Oklahoma for the Army Family Team Building (AFTB) Program, she was selected to design national workshops on conflict management and leadership. 
Kim made the leap from leadership and soft skills training and education to add historical training projects to her passions. She researched and designed new programs for Girl Scouts on A Day in the Life of a Civil War Girl and Empowering Girls for Today and Tomorrow.  When she was the National Patriotic Instructor for the Auxiliary to Sons of Union Veterans of the Civil War, she created a series of six short educational videos about the history and importance of Memorial Day which were filmed at various cemeteries throughout Ohio.
As a writer and author, Kim Villalva's inspirational short stories have won or placed in contests across the country for over twenty years.  Additionally, she has written newsletter and blog articles, historical pieces, numerous training curriculum and facilitator guides, event planning guides, and devotional articles as well.  Her books with Children's Historical Publishing including Empowered Women:  Ohio Women in the Military (published in 2020) and Abraham Lincoln: The Servant Leader (to be published in Fall 2022) combine her detailed approach to research with a down-to-earth tone to make the subjects educational and inspirational.
Kim loves to work with both children and adults, and to teach and inspire, regardless of the subject. She enjoys pursuing her passions of helping people and organizations through training, education, and writing. She loves finding ways to connect the timeless lessons of history to a training workshop or story. Kim works to help honor and remember our nation's veterans by telling their story through historical displays, panel discussions and creative programs.   
Kim has a Master of Arts Degree in Organizational Communication with an emphasis in Training and Development from Southwest Texas State University and a Bachelor of Arts Degree in Rhetoric & Communication with an emphasis in Organization Development from Kent State University.  She lives in Centerville, Ohio and loves spending time with her family performing cultural dances and exploring the histories of small towns.