KATHLEEN HAYES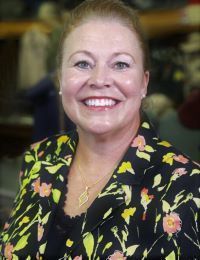 Kathleen Hayes is a Retired Colonel Army Nurse with 35 years of combined Active and Reserve Army service. COL Hayes provided leadership in various positions during her career to include: leadership as a Captain Head Nurse deployed at Ft Lee Hospital during Desert Storm 1990-1991, Chief of Staff for the 307th Medical Group from 2006-2008. Her last deployment 2008-2009 was as Chief Nurse for the 345th Combat Support Hospital in Tikrit, Iraq where she was responsible for the nursing operations in the 345th Combat Support Hospital located on COB Speicher assuring expert resuscitative and surgical care in addition to inpatient and outpatient hospital operations. Colonel Hayes was responsible for providing leadership for level 3 care for US and Coalition Forces, as well as local Iraqi nationals.   
Colonel Hayes retired from the military in 2010 where she continued her service to Veterans as the Hospice and Palliative Care Coordinator for the Dayton VA Medical Center. In this role where she recently retired, she served as leader and advocate for Veterans' access to quality end of life services.  Kathleen Hayes is the founder and past co-chair of Hospice Veteran Partnership of Ohio. This organization is the collaboration of Veteran Organizations, State Hospice organization, Veteran Administration Medical Centers in Ohio and Community Hospice Partners working together to increase access of end of life care for Ohio Veterans.  For her National and State Hospice leadership in care of Veterans, Colonel Hayes was inducted into the Ohio Veterans Hall of Fame Class of 2012. She was honored to serve as one of the nurse volunteers for many of the Shelby County Veterans trip to Washington D.C.
She currently serves as a Trustee for the American Veterans Heritage Center in Dayton Ohio to honor the accomplishments of Veterans while preserving national and local history at the Soldiers Home in Dayton Ohio.