GLENN COSTIE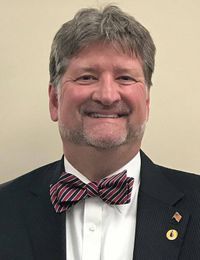 In October, 2017, Mr. Glenn Costie retired after 33 years of service to our nation's Veterans, most recently as a member of the Senior Executive Service (SES) as the Chief Executive Officer (CEO)/Medical Center Director of the Dayton VA Medical Center (VAMC), Dayton, Ohio..
From December of 2017 through December of 2019, Mr. Glenn Costie served as Chief Veteran Services for Ohio's Hospice Incorporated (OHI).
Mr. Costie began his VA career as a Technical Career Field graduate engineer trainee in 1984 at the VA Medical Center in Martinsburg, WV. Afterwards, he was assigned to ever increasing areas of responsibilities at VA Medical Centers in Chicago, IL; West Haven, CT; and Cleveland, OH. Mr. Costie served as the Chief Operating Officer (COO) at the VA Maryland Health Care System (VAMHCS) in Baltimore, MD from 2006 until September 2009.
He was assigned as the CEO/Medical Center Director of the Dayton VAMC in December 2011. From July 2014 to November 2014, Mr. Costie served as the Interim CEO/Medical Center Director of the Phoenix VA Medical Center, where he was tasked with fixing long-standing issues related to the national VA scandal on wait times and patient access.
Mr. Costie serves his local community through active participation with the Dayton Foundation Board, Victory For Veterans Board, Greater Dayton Area Hospital Association (GDAHA) Board; American Veteran Heritage Center Board Past President; Day Air Credit Union Board; Habitat for Humanity Board Vice President; Leadership Dayton Board; Lincoln Society of Dayton Board, Membership Chair; 5 Street Brew Pub CO-OP Board Vice President; and Dayton Arcade Task Force. He also served as the President, Board of Governors for the Engineers Club of Dayton. Mr. Costie is Co-Chair of the Veterans Affairs History Center Foundation.