MARK CONRAD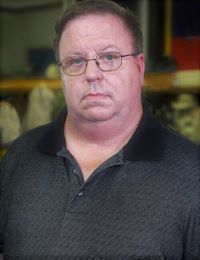 Mark Conrad, is the Curator and founder of the Miami Valley Military History Museum, located on the Dayton VA Medical Center Campus.  
Mark's association with AVHC began on Veterans Day, 2001.  Over these many years, he has volunteer countless hours on behalf of the AVHC, working in Building 120, serving on event committees (including serving as chairman of the 2006-2007 festivals), giving presentations to veteran and civic groups, drafting documentation and more.
  
Active in a number of veteran and heritage organizations, he has served as a member or officer in the American Legion and Veterans of Foreign Wars at Post, District, State, and National levels. He is affiliated with other veteran and lineage groups such as the Sons of the American Revolution, and sons of Union Veterans of the Civil War.
Mark retired after a 20-year career in the United States Air Force as a Master Sergeant. Over the course of the following decade, he served as a Department of Defense contractor, holding positions as a technician and program manager for information technology and network security projects around the world. With 27 years' experience in military and contractor telecommunications, transmission systems, circuit provisioning, program and personnel management, training, and network security/intrusion detection systems. His background includes a working knowledge of military network and computer systems, network management and troubleshooting equipment, intrusion detection equipment, and information assurance policies.