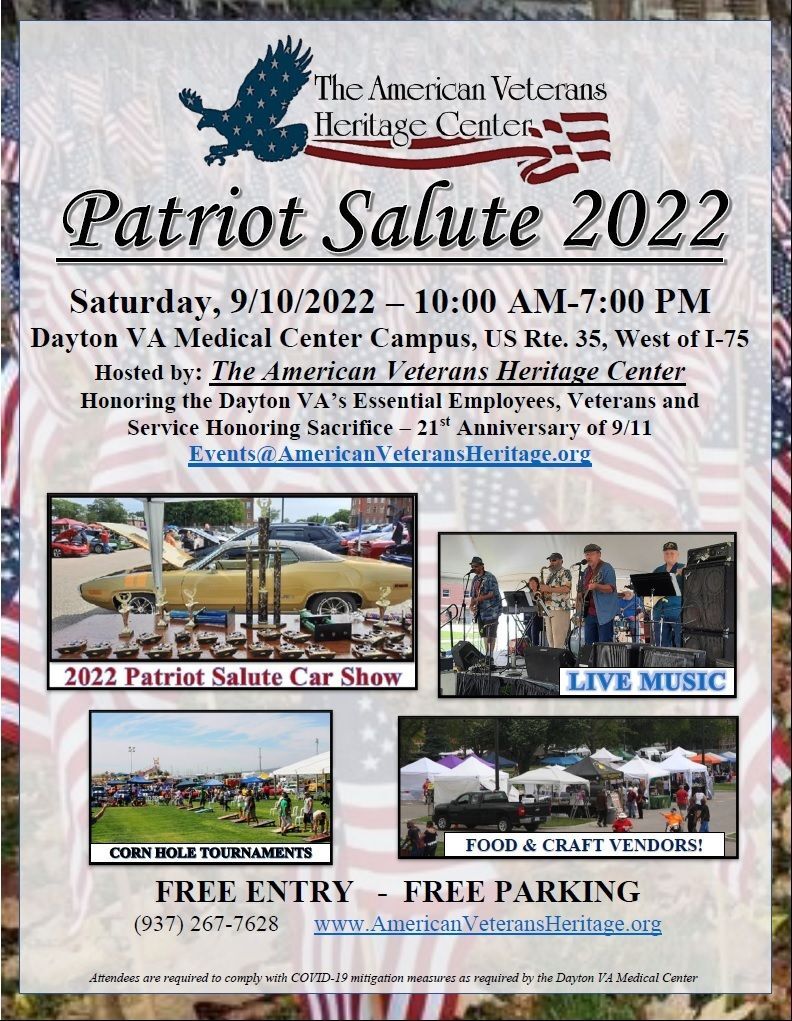 Patriot Salute 2022
September 10,  10:00 AM – 7:00 PM
Enjoy the PATRIOT SALUTE CAR SHOW with Live Entertainment, a Corn Hole Tournament, food trucks, and vendors!
FREE ENTRY - FREE PARKING
This year is the 21st Anniversary of the 9/11 attack on the United States. We will commemorate the anniversary with a Memorial Service on Saturday evening.  We also will be recognizing those essential VA Employees who risked their health and sacrificed their time to get through this pandemic emergency to care for our veterans, and continue to do so. 
PATRIOT SALUTE CAR SHOW INFO:
Event by Ryan Snell and Dawn Harden
Group · Shift Heads Car Club
Location: Dayton VA Medical Center Campus
Public  · Anyone
Welcome everyone to the 2022 Patriot Salute Car Show.  This is the 21st year since September 11, 2001, so; show up and show your support.
This year we are having a car show on September 10th from noon until 4 p.m. Judging is from noon until 3. Awards to be given out after 4 p.m. Must be present to win.  You may arrive at 10 a.m. to get your car cleaned up, parked, set up and ready to be judged.  Car show entry fee will be accepted at the gate.  All proceeds will be donated to the American Veterans Heritage Center, a 501c3 non-profit on the Dayton VA campus.  If you would like to donate and don't have a car to put in, please feel free to do so.  For large groups please try to arrive together for parking purposes.  We cannot guarantee parking availability next to each other.  Upon entering the Dayton VA Campus, please follow directions from attendants.
***fee for car show is $15
Please try to have exact amount to keep line moving fast.
There will also be food trucks, vendors and music the day of the event as well as a cornhole tournament. Food trucks and vendors, will be available as well.
For more information, email Events@AmericanVeteransHeritage.org or call the AVHC Office at 937-267-7628 and leave a message. 
PATRIOT SALUTE CORNHOLE TOURNAMENT:
This Tournament is not an "official" sanctioned Corn Hole Tournament – it is a "Fun" Tournament; however, it will follow official rules.  The official rules for playing Corn Hole are: https://www.playcornhole.org/pages/rules and offers a downloadable mobile-friendly version.  Paper handouts for the rules are also available.  
September 10, 2022 at the Dayton VA Medical Center Campus.
8 Team Single elimination tournaments throughout both days starting every hour
$20 entry per 2-person team
Cash prizes for 1st and 2nd place ($60 and $40)
Sign-ups on the day of the event
FOOD TRUCKS / FOOD AND MERCHANDISE VENDORS:
Those vendors interested, please email Events@AmericanVeteransHeritage.org for information.
FUN FOR FAMILY & FRIENDS!!